Manpower Recruitment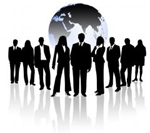 At Izumi, we fully understand that ³PEOPLE² are the greatest asset to any successful organization.
Our professional expertise in evaluation of a workerıs skill and efficiency as also our stringent selection procedure ensures that we deliver exactly according to our clients expectations.
Our current focus is on providing skilled resources in the field of Information Technology (IT) through contract and permanent placement to Japanese companies. Please see www.izuminetwork.jp for more details.