Promotion of Indian Culture at Japan
We have successfully completed an Indian Sitar concert by Shri Niladri Kumar at Tokyo & Nagoya as part of Indo-Japanese friendship year 2007 on 9th & 11th October 2007.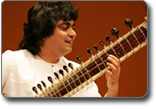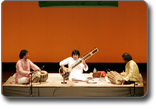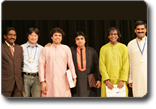 AMEYA - The Heart of India
INDIA - A country that evokes images that are rich in color, vibrant and full of life.
INDIA - where the ancient traditions of art and handicraft have been passed on through generations of artisans and are still alive and flourishing.
AMEYA is an IZUMI NETWORK venture to import a spectrum of Indian products into Japan.
AMEYA now brings to Japan, an essence of this Indian heritage by showcasing its indigenous arts and crafts and elements of contemporary lifestyle both through its online store as well as its wholesale & retail store at Nagoya, Japan.
AMEYA In Sanskrit, the word denotes a meaning of "BOUNDLESS" and this truly describes the varied and unlimited choice of products that AMEYA offers its customers.
We place an overriding emphasis on quality. In other words, we bring you only the best of what India has to offer.
Product Range :

Arts & Handicrafts

Incense & Aroma Oils

Yoga Accessories

Indian Movies

Ready to Eat Indian Foods

Window to India

Travel and Tourism to India