Izumi Workflow and Process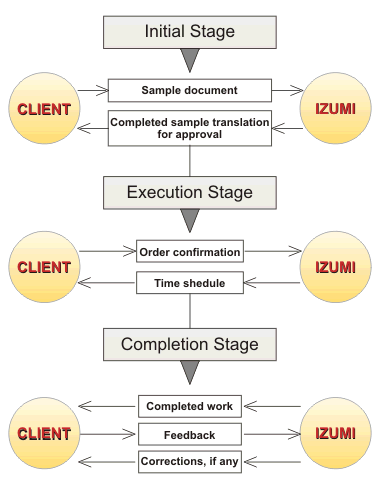 On receipt of an enquiry for translation, Izumi requests the client for the following:
A sample of the document required to be translated. (approximately 200 words)
Glossary (if it already exists)
Background material and details of the larger project within which the translation service is required.
Details on the total volume of work
Clients expected time schedule for delivery
On receipt of the sample from the client :
Izumi assigns the sample to the relevant translator after analyzing the content.
The completed Sample translation will be delivered to the client for approval.
In cases where the volume of work is very high, Izumi offers more than one sample translation to demonstrate our ability to handle a large quantum of work.
Izumi also offers a tentative time schedule for delivery based on the sample.
Project Execution :
On receiving the approval from the client with a written confirmation of the order Izumi sets up its translation team, appointing one translator as the project head who will Thenceforth be the interface between the client and Izumi for all technical issues. All Clarifications and queries will be routed through this person.
This project head will coordinate the assignment and proofread the entire material to ensure consistency and maintain the flow of the document.
A detailed time schedule will be provided at this point with regular updates on the progress of the work by Izumi.
On completion of the work :
Izumi will deliver the work with a request for feedback within 10 days from the date of delivery.
Izumi will rework any changes / corrections pointed out by the client, within this period as a matter of top priority.
Izumi will make the utmost effort to ensure that the delivery is made in the same format as the original.